"Aren't you scared of going to Turkey?"
Unfortunately I heard this sentence a lot more regarding my recent trip than "Have fun in Turkey" or "How was your trip to Turkey". And yes, given the circumstances and last year's dramatic coup attempt or airport attacks and other security issues, I can't blame people for having the negative thoughts and prejudice on their minds when it comes to traveling to this gateway to Asia. But to answer the question, I must say "No, I was not". Maybe it's because my adventurous spirit is bigger than my fears, maybe it's the fact that I feel like in this crazy world any place is no longer safe after all or maybe I just feel somehow unthreatened, which admittedly is not the best attitude, but when my friend invited me to be her bridesmaid at her fairytale-like wedding, I seized the opportunity and decided to wander beyond the borders of Istanbul.
To be honest, the Turkish journey was one of the best trips I have ever taken. Not only I got reunited with my besties from the times I studied at Arizona State University, got to attend the most magical wedding overlooking Bosporus and spent time with so many amazing people, my friend Marta and I were also lucky enough to witness the incredible beauty scattered around the whole country of Turkey. We strolled the streets of one of the oldest cities in the world, flew over the Blue lagoon with a parachute, watched the sun rising above the magical Cappadocian valley, hiked the Lucian way, drove squads in the Red valley desert, sun bathed on one of the most beautiful beaches in the country, got a (not so) random tattoo in Istanbul, ate delicious baklava and many other yummy food of Turkish cuisine, talked, laughed, argued 😊 and mainly, made memories that will last a lifetime. Save to say that I kicked out a lot of items of my bucket list in just about 10 days.
I named this post Turkish Delight, which is a famous gelatin candy known all around Turkey, but I have much more than the sweet treats on my mind. To me, visiting Turkey was, in fact, a delight for all senses and Turkey now belongs among one of my biggest travel surprises. I knew it would be pretty but that pretty? Striking modern cities, ancient archaeological sites, crystal clear waters, tall mountains, rich cuisine, colorful markets, diverse nature, charming villages and most importantly kind and hospitable people, that is Turkish delight for me.
Istanbul, the city of two continents
The largest city of Turkey, also Constantinople and Byzantine in the very past, is a perfect mixture of modern and traditional life of the country as this is where the two blend into each other. On one side there are magnificent mosques, palaces and museums such as Hagia Sophia, ancient markets and bazaars as well as extraordinary architecture on every corner of the Sultanahmed area. On the other side stands a modern city with stylish lifestyle, delicious cuisine and rich nightlife located around the Taksim Square. That is exactly why I was smitten by Istanbul so fast, because it has it all and there is so much to be admired.
All of the named above is located along the Bosporus strait which is dividing Istanbul into European and Asian part with the European one being home to the main tourist landmarks. Seeing all the glory from the ferry or boat cruising down the strait is not to be missed when visiting the city.
By night, Istanbul is just as magical, if not even more. In order to see the city sparkling under the night cover, I recommend visiting a famous Galata tower located in Beyoglu. This medieval tower, one of the oldest of its kind, holds a lot of history in its walls. In the 17th century, this is where an Ottoman pilot undertook the first human flight across the Bosporus. The view from the tower opens the entire Istanbul's peninsula, Bosporus bridge and the minarets of the mosques in the city center.
One of the main "must do's" is indeed the Grand Bazaar, one of the largest and oldest covered markets in the world, situated in the Fatih district. If visiting Turkey is a delight for senses, then stroll through this market is a feast. Hundreds of stalls offering spices, candies and sweets, lanterns and ceramics, fabrics, jewelry, tea, coffee …. it's a labyrinth with more than 60 streets but getting lost here is more than desirable. My experience was even more pleasant as I found vendors to be surprisingly nice…nobody was pushing us to buy anything, they invited me inside just to take picture and weren't offended when I said I did not want to buy anything in their stall.
"If one had but a single glance to give the world, one should gaze on Istanbul." – Alphonse de Lamartine
Magic of Cappadoccia
I remember seeing a photo of Cappadocia few years back on someone's Facebook page and thinking that it looked absolutely unreal. There were dozens of hot balloons floating in the pinkish sky above a rock formations lighted up by the first light beam. I thought that something this extraordinary must be happening probably like once or twice a year. Fastforward to this year when to my surprise I happily learnt that the hot balloons fly above the valley of Cappadocia literally every morning. There was no way I would visit Turkey and skip this show! And it is not just the hot balloons that make the area so unforgettable, the entire valley is straight out of fairy tale.
We stayed in a beautiful cave hotel Mithra overlooking the entire town of Göreme, the "center" for all tourism in Cappadocia. The city is surrounded by breathtaking rock formations, called chimney rocks, pastel valleys and the close by Göreme Open Air Museum, listed as the UNESCO World Heritage Site, is pretty much an epiphany of an landscape. It contains a collection of Christian monasteries and cave churches from about 1000 AD displaying ancient carved frescoes and wall paintings and should not be missed!
On the first day Marta and I took squads on a ride through a beautiful Rose and Red valley, named after the color of the stone. The sun was going down, giving the valleys its golden hour power and by the time we reached the sunset point, the golden hour made everything so magical.
The next morning, the cherry on the top of probably the entire trip, was the dreamy sunrise above Cappadocia. We skipped hot balloon ride because we wanted to see them making their way to the sky above the valley from the roof top of our hotel. And it truly was a "pinch me"-kind of a moment. The sun rises quite early in the summertime so we got up at 4 am, climbed up to the roof which has the best seats in the house for the entire show. The sun had painted the sky 50 shades of pink while the balloons were slowly ascending above us. It was one of those moments I will cherish forever.
Other places that are worth a visit is the area of Nemrut or beautiful remains of Uchisar castle giving 360 views of the Cappadocia valley.
The coast has it all
The best way to end our Turkish adventure was a visit to its coast called Dalaman, or sometimes, more precisely, the Turquoise Coast, which consists of nearly 1,600 kilometers of stunning shores along the Mediterranean. We based ourselves in Fethiye, a town located approximately in the middle of the Turkish coastline in the Muğla Province. While other coastal destinations such as Antalya and Cleopatra beach are packed with tourists (for a reason), Fethiye has a lot more local feel and is a great starting point to many of the coastal treasures. Due to severe earthquakes that happened in the past, not much of historic landmarks have remained in the city center but there is still a lot to do. Fethiye is full of appealing (Turkish as well as Greek) restaurants and Turkish baths. The main attraction of the city is a beautiful marina, that, especially in the morning, becomes a home to dozens of tiny cute turtles.
Just a short drive by a minibus, one of the Mediterranean's most photographed beaches, Ölüdeniz, welcomed us to its pristine beaches. The main pride of Ölüdeniz, which has been turned into a national park, is protected paradise-like Blue lagoon where locals as well as tourist come to get all the beach vibes. The famous butterfly valley with lush palm trees and exotic bays is also just a short boat ride away.
For those craving some solitude, there is an unspoiled beach in a very hippie village called Kabak, accessible only by a 30-minute walk from the town of the same name. I headed to Kabak on my last day, already by myself, and had a unique (very hippie) experience. The hike around Kabak is part of the famous Lucian way, a 500km footpath running along the coast from Fethiye in the west to Antalya in the east and includes breath-taking coastal views, pine forests, rural villages and ancient ruins. The whole trail takes around a month to complete (one day?:)) so I only hiked a short part of the route on my last day and finished with a dip in the sea on the peaceful Kabak beach.
So was it safe?
Despite the natural and historical wealth that Turkey undoubtedly can be proud of, the sad truth is that if you browse through the internet forums in search of travel tips, one of the most discussed topics will possibly be the security issues and whether it is a good idea to visit Turkey right now. No wonder, many governments advise their citizens to remain alert and often include warnings on their website and so many people, influenced also by what they see in medias, cancel or postpone their vacations.
From my point of you, and I surely am no expert in safety, it depends on where you go. I would think twice if it really is desirable at this moment to visit regions bordering Syria and Iraq simple because the situation really is unstable and unpredictable.  As for the big cities such Istanbul and Ankara, it is definitely wise to monitor the news regularly whether there are some big events and protests scheduled to be happening (such as now, after the US president announced the recognition of Jerusalem as Israeli capital). I stumbled upon a map on the internet that the government of UK created in regards to the current situation (as of Dec 2017) and encourage everyone to search for similar information before going or turning down an adventure: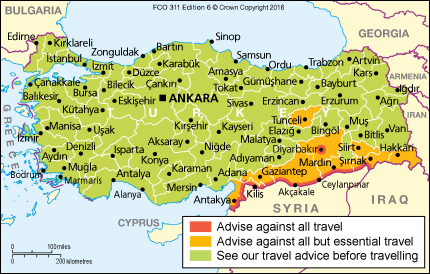 Like travelling to any new place, experiencing Turkey is an adventure and a different culture for many of us and so we should always show respect to different traditions. I found Turkey to be quite modern and in most occasions, female visitors do not need to cover their hair, only when visiting mosques. Luckily, Blue Mosque is ready for the influx of non-Muslim visitors and the appropriate (not so pretty) clothing is provided.
I must add that Turkey turned out to be the country with the nicest and the most generous people to me. Most people we met were genuinely helpful and wanted to make sure we were having a great time in their home land. First, I was quite cautious when talking to people on the streets, not necessary because of the safety but I was just trying to avoid uncomfortable situations, such as being taken to a shop and being persuaded to buy something. My friend Marta was way more trustful and every time we were even a little bit lost she immediately asked for a help of locals who usually did not tell us the directions straightaway but rather changed where they were going and led the way to our location which made me nervous at first. In the end, everything was fine, we were always taken exactly where we needed to go with an extra piece of advice. I can't believe that my negativity almost stopped me from seeing the good in people.
And while it is for everyone to judge whether it is safe for them to visit a certain country, I am glad that fear did not stop me. I am not saying to be oblivious to the threats. But ultimately, we are travelers. Our decisions are more motivated by the cultures we want to experience than by travel warnings. So if you decide to visit Turkey, the bottom line is to make sure to keep checking the travel advice of your government and mainly to pack a sense of adventure, smile, respect and common sense. I do believe in the law of attraction and that we attract what we fear the most. With the right mindset, your travels will be filled with endless experiences, wonderful memories and new friendships.